Round Top Windows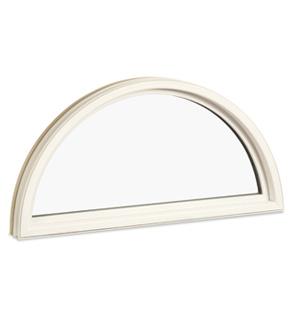 All Ultrex Series Round Tops are the one curved-edge window whose strength matches its beauty. Made from glass-reinforced composite and finished with Integritys acrylic capping technology, you get a stunning complement to any Integrity All Ultrex Series window that will last for years.
Features
Available in standard-sized true half rounds
Pairs perfectly with Integrity doors and windows
Extra-strong, glass-reinforced composite core with acrylic capping
40% stronger and more rigid than vinyl

Exterior & Interior Colors
Exterior Colors
The Ultrex patented finish process is three times thicker than competitive finishes to resist scratching and marring. It also provides five times the UV resistance to protect against fading, chalking, streaking and cracking.
Ultrex Fiberglass
Our high-performance, proprietary Ultrex fiberglass delivers the strength and rigidity that outlasts and outperforms vinyl and aluminum. Plus, our patented finishing process yields a finish that is three times thicker than competitors that looks great for the life of the window.
Durable low-maintenance pultruded fiberglass
8x stronger than vinyl
9x less expansion and contraction than vinyl
Non-conductive and non-corrosive
Patented finishing process resists fading and cracking
Interior Colors
Integrity All Ultrex windows and doors feature an Ultrex fiberglass interior with a patented Stone White finish that resists scratching and marring.
Go Back